Competitions – Free Craft Show Tickets
Win one of 2 pairs of entry tickets for The Knitting & Stitching Show at Alexandra Palace, London this October…
We are back at Alexandra Palace from the 11th-15th October exhibiting at The Knitting & Stitching Show and have 2 pairs of tickets to give away to our fellow crafters (Please note:  the tickets are only valid on Weds, Fri & Sun).
For your chance to win a pair of tickets, simply answer 'what is the name of the mouse you can make from the new Amazing Craft Sewing Kit'.  Find the answer on our website HERE and email us the answer (see below), along with your name & postal address* before 4pm on September 25th 2017.  Good luck!
Email your answer to the competition question HERE.
(*Please note, we ask you to send us your postal details because we frequently find people's computers decide their winning ticket email is Spam!  This way, we simply pop the winning tickets in the post to the winners.  Please rest assured that your address is not kept on record or used for any other purpose).
Make of the Month
We run a 'Make of the Month' competition and invite crafters to enter by simply sending us a photo of their latest creation.  The prize (other than the glory!) is a £5 off coupon from any purchase from the Amazing Craft website.  To see our winners, have a look at our previous monthly winners here.
If you would like to enter, simply post a photo of your handmade creation on one of our Social Media pages or email us via this LINK.  Closing Date:  There is no closing date for this competition as it is a rolling program.  Any entry will be entered into the current month's competition.
T&C's 
We would like to share photos of your creations with our fellow crafters via social media and our website and, by entering the competition, you need to feel comfortable with this too.  If, however, you would rather we didn't publish your name, please let us know.
You may enter the competition as many times as you wish and with any type of handmade craft.
The winner will be notified via email (check your Spam folders or maybe add our email address to your contacts!).
August's Make of the Month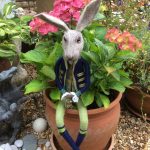 Vera's hare leapt out at us this month!  Vera loves working with felt (see her amazing work on Instagram under veritzavfelts) and has used our glass eyes which, as Vera says, adds another dimension.
July's Make of the Month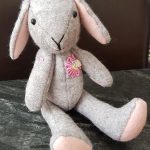 We love the way Alyson Merrall added her creative flair to the Amazing Craft Sophia Rabbit by using felt and button jointing.  She looks so elegant!
June's Make of the Month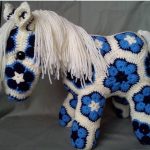 We simply adore Margaret Thorpe's pony that she crocheted from a Heidi Bears pattern for a friend.  Margaret is a keen toy maker and has also made some very cute mice from our new Jackson Mouse pattern too.
May's Make of the Month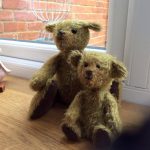 Meet Paula Baker's first two mohair bears (made from the Amazing Craft Bear Making for Beginners pattern). Paula told us "I looked at your kits many times thinking I could never be able to make them….I finally took the plunge and made a couple out of cheaper fabric, then the mohair, which I love."
April's Make of the Month
Meet Salazar, a first time bear made by Kirsty Reade (from our Bear Making for Beginner's pattern) for her husband who is a huge Harry Potter fan!  Can you guess which house he favours?!
March's Make of the Month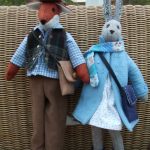 March's winner of Make of the Month is Jenny Hodgkins with her very sweet creations from the Luna Lapin book (Jenny also sent us photos of some extremely cute creatures that she made from the How to Sew Little Felt Animals book too!).
February's Make of the Month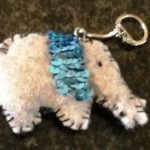 Young crafters won again this month!  Phoebe & Charlie are sister and brother and we chose them as our February winners to encourage them with their sewing after they both learnt whip stitch from our Learn a Stitch Kit.  Well done!
January's Make of the Month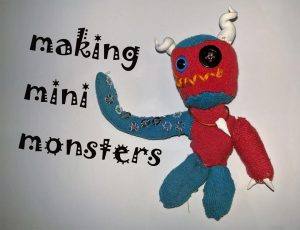 Young Clyde won January's competition.  We first met this young crafter at a show and his passion and creativity are simply amazing!